Welcome to Julio Green Abstract Paintings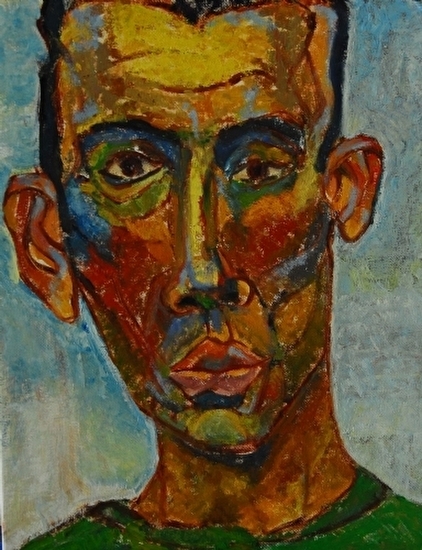 BIO
Julio A. Green creates abstract paintings that express his responses to music, his environment, and the forces surrounding his subjects. The viewer will often find actual, physical pieces of Julio's environment in his art, as he gives new life to discarded items by incorporating them into his paintings. This "Abstract Recycling" gives new life to what would otherwise end up as garbage or litter, and brings attention to our need to be less wasteful as a society.
Born and raised in Honduras, Julio has been drawing since his early years, and began painting at the age of 18 as a means to express himself in ways for which words were inadequate. After years of self-teaching, Julio came to the United States and began taking classes to learn new techniques. He combined this new knowledge with his years of experience to develop his own techniques. His works have been featured in numerous exhibitions and contests throughout the years. Some notable awards he have received are the 2004 Express South Florida¨ Reader's Choice Award for Best Male Visual Artist, The Van Gogh Award (grand prize) at the First Annual Quick Draw Art Event 2007 Developed by Broward Art Guild, and Best Mixed Media/3D at United & Proud 2010 Developed by ArtsUnited, among others.
Now days, Julio; also works with metal iether welding or backmisthing creating art works from recycle pieces like auto parts, rail road spikes among others

Julio's process of personal self-discovery and his art go hand-in-hand, as is evident in the varying perspectives he crafts on canvas.
Statement
My art is an extension of me, physically and mentally. My abstracts are my feelings, emotions and daily desires expressed in the way of forms and colors. I paint to escape my reality and use my gift as not only a way to express myself, but also to manifest my daily stresses and joys in a constructive way. That, music and movies are the sources of my abstract art. When looking at every day objects or situations, I tend to personify them on the canvas, giving the art life. I paint abstracts to disguise my feelings to the world, but also as a way to face the world.
As a child, I would draw to express myself as others found me to stray from the societal norm. I saw the world different from others. I grew in my art by expressing this interpretation of the outside world as I matured in my paintings. Abstract painting forces me to evaluate situations in my life. The creation process and the finished product bring clarity to an otherwise foggy existence. Without the ability to paint and manifest my vision of the world onto a canvas, I wouldn't be a whole.